Last week we had the opportunity to attend a very interesting online seminar organised by the Latin American Factoring Association (FELAFAC), in which an in-depth analysis of the current situation of factoring in the region was carried out. The experts talked about what we can expect of the industry in 2023.
The event was inaugurated by the general secretary of FELAFAC, Claudio Martínez, and I also heard experts from Perú, Chile, Mexico and Colombia.
Guadalupe Meléndez, representing the BCP, analysed the current complicated situation in her country, which has been seriously affected by the coup d'état by President Castillo which caused a climate of instability and economic losses estimated at 2,600 million soles. To this we must add the devastating effect of Cyclone Yaku, which has so far left 61 dead, more than 12,000 homeless, and economic losses that could reach PEN 4,000m (US$1,062m). "We have started 2023 full of challenges in Peru, but our economy is very resilient," said Meléndez. She also assured us that in this scenario marked by the political crisis, the rise in financing costs, high inflation and the great difficulties of access to credit for SMEs, factoring "continues to be an opportunity to access financing at competitive rates".
As we can see in the chart below, the factoring market in Peru has grown by 28 per cent in the last year, being an industry that turns over PEN 2,700m (US$717m). However, this figure is still quite low, representing just over 2 per cent of the country's GDP.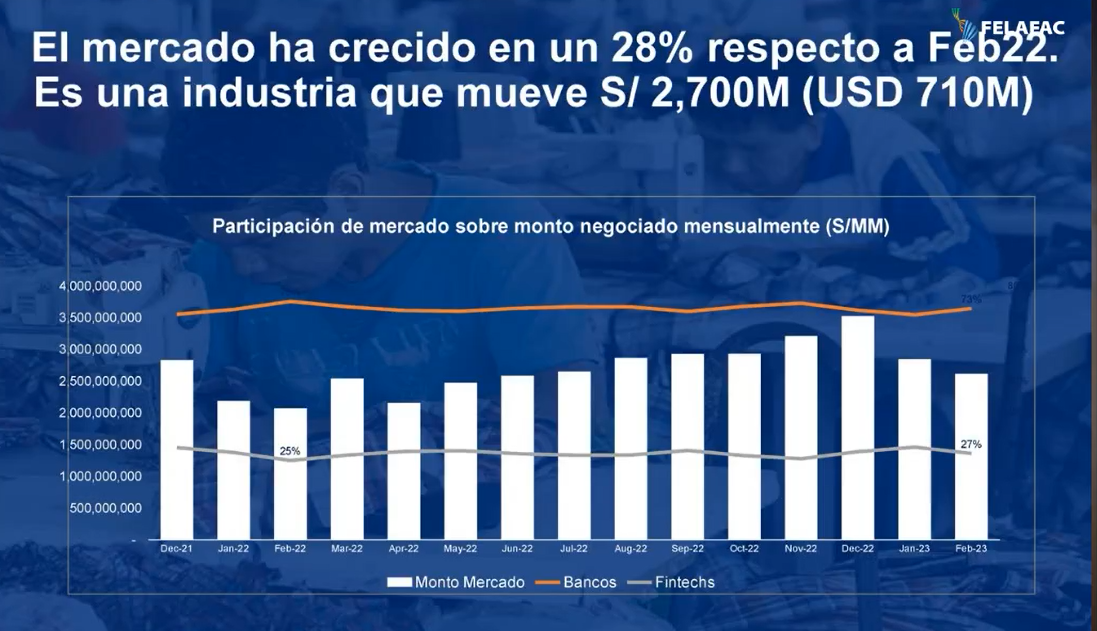 In addition, Meléndez laid out some of the main weaknesses of the Peruvian economy, such as high informality (currently 70 per cent of the economy is informal), and the fact that almost half (48 per cent) of the population does not have a bank account. Melendez pointed out that it is necessary to continue trying to break down the various barriers that hinder the progress of the sector (mainly mistrust, the difficulty of accessing credit, and high costs) through "better rates, better conditions, ease of access, digitisation, and trying to make the product better known". For his part, Lucho Terrones, general secretary of the Peruvian Factoring Association (APEFAC), highlighted positive data from the associates, who are not regulated but are registered as specialised factoring companies. In the last year they have generated PEN 4,500m (US$1,195m), which represents an 18 per cent growth compared to the previous year. According to Terrones, in 2022 APEFAC represented 13 per cent of the factoring market in Peru and the vast majority of its operations (86 per cent) was recourse factoring. Regarding the future, Terrones clarified that despite the clear instability that Meléndez commented on, "the need for financing continues to exist, and for this reason we expect that at the level of factoring operations the results at the end of 2023 will be slightly higher, mainly due to the high demand for financing not met by the national financial system." The next presentation was given by Rodrigo Carvallo, from the Chilean Association of Factoring Companies (ACHEF), who presented the main figures for the industry in Chile. This graph shows the last 12 years of the evolution of the sector:
As we can see, after the strong impact of the pandemic in 2020, the last two years have been very positive for Factoring in Chile. Carvallo indicated that for 2023, growth of 4 per cent is expected which would mean closing with a business volume of US$31.8bn, representing 10.6 per cent of GDP – "a fairly low estimate in relation to what we are used to", he commented. Carvallo pointed out that the biggest challenge for 2023 is creating new digital factoring products, since they allow for (at a low cost) the generation of a greater volume of business and expanded geographic coverage.Next we heard Pilar Turanzas, representing the Mexican Association of Financial Factoring (AMEFAC), who recalled that Mexico is one of the countries in the region with the highest volume of Factoring operations, and in recent years it has obtained magnificent results, as we can see below:
Regarding opportunities within the sector, Turanzas highlighted the advantages of Nearshoring, a strategy of manufacturing closer to the market in which the products are sold, which means a reduction in logistics costs. According to Turanzas, the pandemic revealed vulnerabilities in value chains and the risk of geographical distance between the production and consumption of goods. In this sense, she considers that for Mexico, Nearshoring is a great opportunity in the medium/long term, not only because it is a neighbouring country of the United States, but also because of the existence of the Treaty between Mexico, the United States and Canada (T-MEC), which positions it as an  attractive destination for companies that wish to be closer to the US market. She also pointed out that labour costs in Mexico are lower than those of, for example, China. The last presentation was given by Juliana Trujillo, from Bancolombia, who shared interesting facts about the Colombian economy. She indicated that 62 per cent of SMEs do not have access to financing, and 52 per cent do not have any financial help to allow them to face difficult scenarios such as that which we are currently experiencing. However, SMEs are the engine of the economy (accounting for 95 per cent of total business and 35 per cent of GDP), and factoring is a fundamental tool to boost these companies and help them obtain the liquidity they need in their day-to-day business. She also commented on the latest changes that have occurred in the country at the legal/regulatory level and highlighted the stabilisation process of RADIAN, a platform in which 20 million invoices with a value of COP 168bn (US$36m) have already been managed, and which has 20,000 authorised users. However, some improvements and new functionalities of the system are still pending which will enable it to work with total efficiency and facilitate the process for users. Trujillo highlighted the importance of generating direct connections with the ERP ecosystems of large payers, the importance that "the bank connects directly with ERPs to provide these clients with their accounting, statistics and reports, and establish automatic processes."