Leadership, a word that is difficult to define in a single definition, always subject to the need to transform itself to adapt to new contexts and, in this last year, with the pandemic we have experienced, this adaptation and transformation has become even more important and, above all, to the rapid need for the leader to respond to transform himself and his team to a new and different way of working that has never been experienced before.
It is inevitable that when we talk about leadership, we ask ourselves the following question: Is the leader made or born? Aristotle had it clear with this phrase that I invite you to reflect on: "From birth some are predestined to obedience and others to command".
People are constantly changing, and we need to develop and improve our skills and qualities, but there are undoubtedly qualities that are innate and others that we must work on, but that does not mean that they are impossible to develop. Human beings can achieve whatever they set out to achieve, they will achieve it in their own way with their competences, skills, and available tools.  It is very daring to believe that someone cannot achieve what he or she sets out to do.
We can differentiate between three types of leadership:
1.Status leadership: emanates from the company.
2.Technical leadership: they know a lot about something specific.
3.Natural/innate leadership: relationship that emanates from the person.
We now turn to the next question: What are the characteristics that a good leader should have? Currently, the characteristics that are considered most necessary to be a good leader are the following:
Communication: a leader must communicate properly, know when to communicate, how to communicate and what to communicate.
Two-way trust: Trust in the leader and the leader in his employees is fundamental.
Honesty: A leader must be honest with his or her team. It is one of the most difficult qualities to have and to put into practice.
Active listening: listening as hearing + listening.
Resilience: the ability to face adversity and failures and to emerge stronger from them.
Kindness: kindness to others and to oneself, very favourable for a harmonious working environment.
Bilateral Loyalty: difficult to achieve in its maximum expression, but as far as possible, to be faithful to ourselves and to our ideas.
Empathy: for a better understanding of the team.
Sensitivity: a leader must be sensitive to be able to reach the emotional side of his employees. Emotional intelligence is increasingly vital for successful leadership.
Delegation: knowing how to delegate to have an effective and productive work team.
Adequate definition of responsibilities, functions, and objectives for each job.
Rectification and Recognition: necessary and very useful for the achievement of objectives and the success of good leadership.
Motivation: this is considered the most difficult because it does not depend so much on the leader but on the person him/herself, only one activates or deactivates the engine of motivation.
Once the characteristics have been defined, it is necessary to understand what the values of a leader are. We can point to seven fundamental values: trust-bilateral, loyalty-bilateral, honesty and integrity, respect, fairness, and commitment.
I also invite you to reflect on the following sentence by Brian Tracy: "Integrity is the most valuable and respected quality of a leader, always keep your word".
But all these issues must be based on a fundamental foundation: The leader must be a good person, without this nothing makes sense.
Another question we ask ourselves is: What is the true meaning of work? Can we achieve full happiness in our jobs?
Work arose for the development of people, to achieve dignity as a person, to achieve dreams, goals, and other objectives that we set ourselves.
So-called happiness at work can only be achieved by covering our emotional, material, and personal needs and by doing a job that is in line with our professional profile. A good job contributes to self-esteem, satisfaction and personal fulfilment, work dignifies and contributes to our personal independence, so necessary in many moments of our lives. This video is a great inspirational reference about the importance of motivational leadership.
There are different styles of leadership, we are committed to the Coach Leader, a leader who is directive and supportive to his collaborators, always motivating them, making them participants in the progress, and getting the best version of each of the members of his team.
"If your actions create a legacy that inspires others to dream more, learn more, do more and be more, then you are a great leader" Dolly Parton, American singer.
Having defined leadership, what phrase would you construct to define what for you is a great leader? Who for you is the best leader you have ever known? Of these historical leaders, which one is for you the great leader, if not none, think about which one and extract their greatest qualities to make them your own and grow as a leader.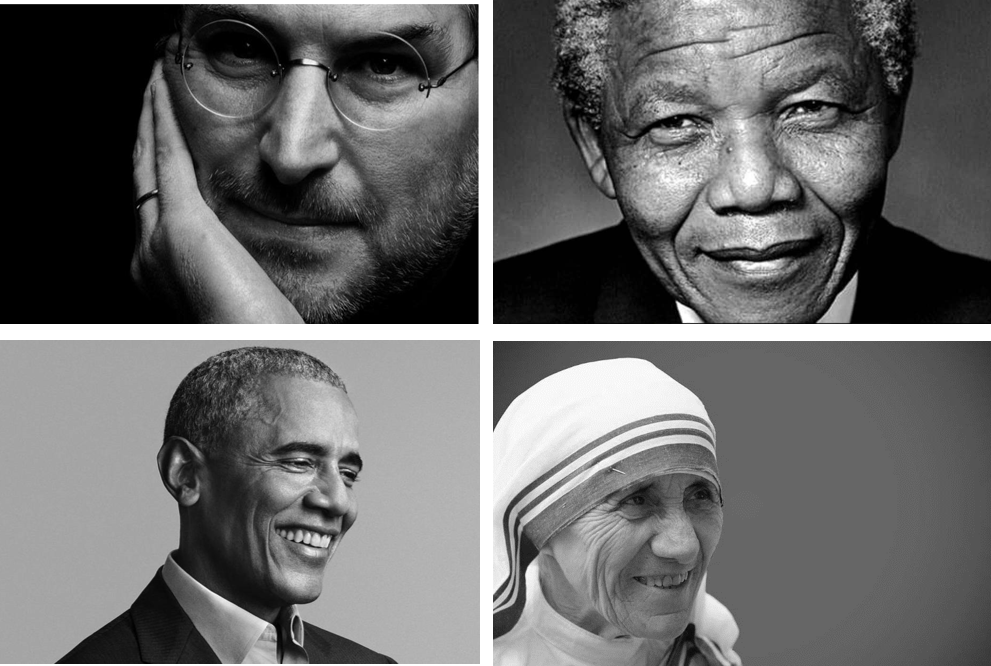 We conclude with the great phrase of one of the most important and revolutionary women in the world of fashion: "It's not the appearance, it's the essence, it's not the money, it's the education, it's not the clothes, it's the class" Coco Chanel. To be a good leader we must have our own essence, education, and class.
Be your best version to be a great leader, we wish you much success in this great challenge. Although is difficult, nobody said that great successes were easy to achieve, but not impossible.